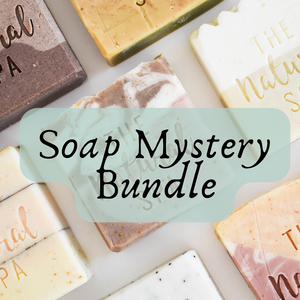 Ready to explore more of The Natural Spa's soap range? 

We have over 20 scents to try so why not leave it up to us to put together a selection for you?
Any scents you don't like? Just leave us a note on your order and we will do our best to choose around those options
What's included

£5 mystery bundle 
4 mini soap bars 
£10 Mystery Bundle
1 Soap on a Rope
1 Soap Bar
2 Mini Soaps 

£20 Mystery Bundle 
2 Soap Bars
2 Soap on a Rope
4 Mini Soaps 

£50 Mystery Bundle
5 Soap Bars
5 Soap on a Rope
12 Mini Soaps
Ingredients: 

All soap bars contain Nut Oils and Oats, Each bar has different essential oils and natural plant powders. If you have any allergies of ingredients please let us know in the notes. 
delighted with item
I bought this as a present and I am sure the birthday girl will be delighted